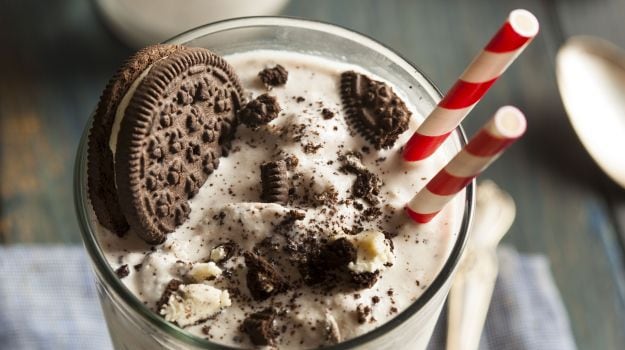 Gone are the days when milkshakes were just supposed to be simple, cold beverages to be enjoyed during summers. The indulgently loaded shakes available today are well capable of being counted as a meal in itself. Done with soda-based drinks, iced teas and other coolers? Looking for something more wholesome? These flavourful milkshakes are what you should be looking for. And we've picked eight best milkshake places across Delhi to help you with the endeavour. Ready for a creamy surprise?
1. Diggin
The beautiful double storied cafe with outdoor seating, situated opposite Gargi College, has garnered eyeballs of both college-going students and families for its ambience, delicious food, generous portions and quick service. Another reason to check out the beautiful cafe is its mouthwatering shakes and smoothies. The must-haves include Choco Mocha Shake (where sweet and sinful chocolate is combined with the bitter strong flavour of coffee), Strawberry Cheesecake,Berry Blast, and Chocolate Brownie. Drooling already?
Where: Anand Lok Shopping Centre, Opposite Gargi College, Anand Lok, New Delhi
Cost For Two (For shakes): INR 500
2. Social Offline
One of the city's favourite hangout spots, Social Offline with its lip-smacking delicacies has earned a special place in all our hearts. The sinfully loaded shakes of Social are both, a culinary and visual delight (much like most of social's food). Try their Mud Pot shake, which is served in plastic mud pot, topped with sprinkles of biscuit crumbs, and chocolate or the Special Social Cake, which is chocolaty and loaded in every part. Sinful, indulgent and totally worth it!
Where:9-A & 12, Hauz Khas Village, New Delhi
Cost For Two: INR 500
3. Big Yellow Door
With every new outlet, Big Yellow Door continues to grab eyeballs and for good reason. BYD now has two outlets in Hudson lane, and one outlet in Satya Niketan, bustling at all times with college students enjoying their plates of pizzas, pastas and nachos, and the wholesome BYD shake, which you happen to spot at almost every second table in the cafe. What makes the shakes such a favourite? The generosity with which they pick and use their ingredients to give you the best shake experience. Try their Rocky Road Shake, Red Velvet and Apple Pie Shake.
Where:H-8 B, Near GTB Nagar Metro Station, Vijay Nagar, New Delhi
Cost For Two: INR 400
4. Big Chill Cafe
Ever since its establishment in 2000, Big Chill has continued to be the most popular haven for the sweet tooth cravings in South Delhi. If you happen to be a fan of their gooey mud cakes and blueberry cheesecakes you will also be impressed by its wide variety of shakes, be it the Belgian Chocolate Shake, Midnight Mint Shake or the Chocolate Banana Oreo Shake. Their shakes are loaded, heavenly, scrumptious and worth every penny.