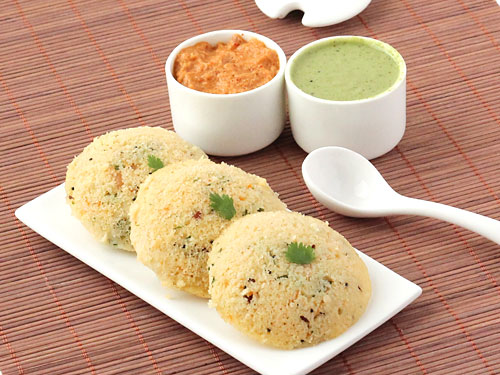 This quick recipe is a perfect summer breakfast. Light and tasty, Suji Idlis are extremely light on stomach.
Makes 6-8 Idlis
Ingredients
1 cup semolina (suji)
1 tbsp oil, 1 cup curd
½ cup water, approx.
½ tsp baking soda (mitha soda)
¾ tsp salt
Method
* In a dish put 1 tbsp oil. Microwave for 1 minute.
* Add suji. Mix well. Microwave uncovered for 2 minutes.
* Add salt. Mix well. Allow to cool.
* Add curd and water. Mix till smooth.
* Add baking soda. Mix very well till smooth. Keep aside for 10 minutes.
* Grease 6-8 small glass katoris or plastic idli moulds.
* Pour 3-4 tbsp mixture into each katori.
* Arrange katoris in a ring in the microwave and microwave uncovered for 3½ minutes.
* Let them stand for 5 minutes. Serve hot with sambhar and chutney.
["source-indianexpress"]