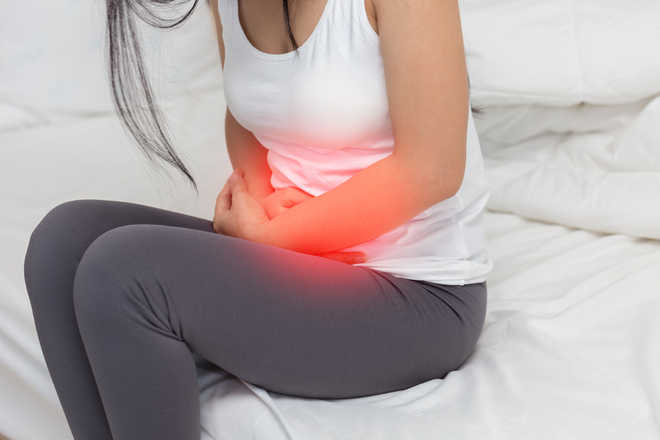 stomachache in young Asian woman
The polycystic ovary syndrome (PCOS) is a hormonal disorder common among women of reproductive age. Of late, this has become one the most common gynaecological problems being reported in OPDs across India. Symptoms include delayed or temporary discontinuation in periods, facial hair growth, excess weight, etc. The condition has many physiological implications as well. It also results in emotional and psychological agony in affected women.
A recently concluded study in the PGI, Chandigarh, on this problem has revealed that uncontrolled or untreated PCOS can raise the risk of diabetes, heart disease and infertility. The study was conducted on two groups — one group of 150 patients with untreated/uncontrolled PCOS and the other group of 150 women who had controlled PCOS.
The study found that those affected with PCOS followed a poor lifestyle, consumed excessive junk food, had no or low physical activity, more intake of carbohydrates and high stress levels. The study also discovered that there was lack of awareness among the affected women and about 40 per cent were seeking information online. Many were scared due to misinformation from unverified sources.
"The PCOS treatment is holistic and long-term. Many patients are not aware of this. So they get impatient and either change treatment or opt for alternative ones like homeopathy and desi medicines besides allopathy. It requires constant motivation and guidance," says Ph.D scholar Ishwarpreet Kaur, who conducted the study under guide Dr Amarjeet Singh, Professor, Community Medicine, PGI, and co-guide Dr Vanita Suri, Head, Department of Obstetrics and Gynaecology.
Ishwarpreet says irregular periods, hirsutism and weight issues are top three problems in this disease. Irregular periods or no periods affect about 7 in 10 women with PCOS. Hirsutism or the extra hair on face or other parts of body are seen in 70 per cent cases, while 70 per cent to 80 per cent of women with PCOS are overweight or obese.
Acne, dark patches on the skin on back of neck and others areas, hair loss, anxiety, difficulty in getting pregnant and sleep apnea are other symptoms.
During the study, one group was taking probiotics along with maintaining good lifestyle, while the other group was only maintaining good lifestyle. While both groups showed improvement, the group taking probiotics had additional improvement.
 "Till a few years ago, there used to be not many such cases. But there is an alarming increase in PCOS cases now mainly due to unhealthy lifestyle ," say Dr Amarjeet Singh.
What the study concluded
PCOS has heterogeneous representation. Most women suffered in ignorance and isolation. They hardly had any information about the disease and were dependent on internet as their main source of information. The routine treatment for PCOS is comparatively expensive and less effective.  Poor lifestyle is a major reason for the rising prevalence of the disease.
Weight reduction had a comprehensive impact in controlling other health problems like insulin resistance, diabetes, hypertension, etc. With the weight reduction, there was also improvement in the symptoms and the test reports. Probiotic supplementation had an overall additional benefit in reducing the abdominal fat, LH:FSH ratio, total testosterone, LPS level, menstrual regularity and also preserving the gut motility. Thus, it can be used as a new PCOS treatment modality in future.
["source=tribuneindia"]